Is that a thing? I am pretty sure I am having one. In my knowing, a crossover day is a day of heightened hormonal shift or change from one inner season to another. For me it is usually characterized by a bit of turbulence as well. 
The founders of the Red School coined this term and describe crossover days as a day of transition from one season to the next. The recommendation here is to give yourself extra space, extra grace, and extra kindness. 
We can expect these crossover days at the following parts of our cycle: 
Inner Winter to Inner Spring: Normally around day 6 or 7

Inner Spring to Inner Summer: Normally around day 14 or 15

Inner Summer to Inner Fall: Normally around day 21 or 22

Inner Fall to Inner Inner Winter: Normally from day 27 – 30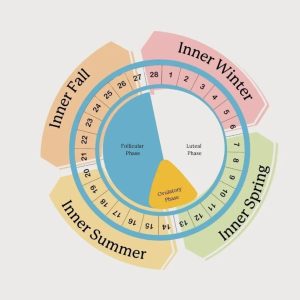 These days are based on a 28ish day cycle and of course the average cycle length greatly varies from anywhere between 21-40 days. Cycle tracking is an important part of body literacy and the best way for you to anticipate not only your crossover days but all of the special powers in your cycle. 
I think I am having a crossover day today because, I am just a little bit off. I am not in the full swing of any one inner season. I'm feeling a little restless, a little tired, a little bit of the energy of all the seasons. 
I am positive that I will be firmly dropped off into inner spring very soon, probably by tomorrow. So for the rest of the day I am practicing radical self acceptance and kindness. 
Wish me luck!